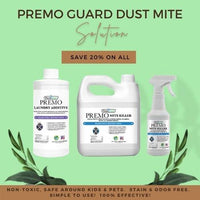 "
Free at last from biting mites. It's been madness for 9 years. Nothing else has worked including paying for pest control companies.
"
- Marsha Verified Premo Guard Customer
USE THESE THREE
EASY STEPS
TO END DUST MITES FOREVER
Buy all three dust mite products and GET 20% OFF.
Use discount code: DUST20 at checkout
End dust mites forever with these 3 EASY steps
Step 1: Wash
Bag up your bedding and any other items, and use Premo's non toxic Laundry Additive in your wash, along with your favorite detergent. Kills mites, and their eggs and larvae hiding invisible to the eye.
Step 2: Spray
Spray Premo Guard Non-Toxic Mite Spray on your mattress, boxspring, frame, around the perimeter of the bed such as carpet, floors, couches night tables. Don't worry, its stain & odor free and safe around kids & pets.
Step 3: Maintain
Once a week, or whenever you wash your bedding, wash in Premo Laundry Additive and Spray your bed area with Premo Mite Killer. It's that simple to keep dust mites out of your bedroom. It's that simple!
Buy Premo Guard individually or...
Buy All Three And Save 20% - Use Code DUST20
Secure one-click checkout with these payment options (and more)
Best Seller

Best Seller

Best Seller
GOT DUST MITES? RAVE REVIEWS FOR PREMO GUARD...
Real Verified Reviews from Real Customers
7 Reasons to Choose Premo Guard All Natural, Non-Toxic Products...
• All ingredients are 100% eco-friendly and non-toxic.
• No harmful chemicals or pesticides.
• Safe to use around children and pets.
• Effectively kills dust mites and their eggs.
• PROVEN FORMULA. Tested by University Entomologists.
• Odorless! Stain-free formula!
• MONEY BACK GUARANTEE!
Premo Guard's enzyme formula kills dust mites by eating through their outer shell (exoskeleton) and killing them from within
END DUST MITES FOREVER! Get Premo Guard Mite Sprays & Laundry Additive as a package, or buy individually below
FREQUENTLY ASKED QUESTIONS